Divi 3.4 Slim Optin Module
In version 3.4 Divi introduced a new html markup for its Optin Module. With the new structure the previously custom-styled forms may not look as you'd like. In this quick tutorial I'd like to show you what CSS you can use to change the default Optin Form into thinner and cooler version.
Free Resources for Divi Lovers
Join our newsletter to get the good stuff!
We'll provide you with updates on new tutorials, webdesign assets and special offers. Get top quality Divi goodies straight into your inbox! Read our Privacy Policy to learn how we manage and protect your submitted information.
Sign up to download
Get access to this layout and all the free resources made exclusively for our subscribers!
Already subscribed?
Fill the signup form and if you're on the list it'll get you straight to the download page!
Please note:
I'm not a lawyer so this is not a legal advice, BUT you don't need any checkboxes to make your signup form GDPR compliant. You need the subscriber's explicit consent to send them emails, but a checkbox is not the only way to get this consent. Use your header and a phrase like "Subscribe to" to make sure it's clear that the user is consenting to a newsletter by signing up.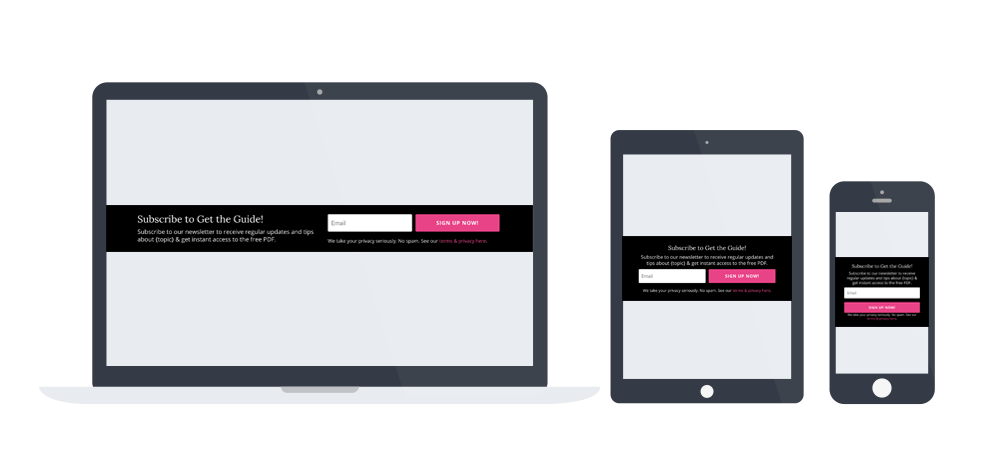 1. Slim signup form with single input field
If you are going to use single e-mail field in your optin form, add a custom CSS class of dl-slim-optin1 and use this CSS code:
.dl-slim-optin1 .et_pb_newsletter_footer {
	flex-basis: 100%;
	margin-top: 0;
	font-size: 80%;
}	
.dl-slim-optin1 .et_pb_newsletter_field,
.dl-slim-optin1 .et_pb_newsletter_button_wrap {
	flex-basis:49%;
}
@media (max-width:980px) {
	.et_pb_column_4_4 .dl-slim-optin1 {
		display:block;
	}
	.dl-slim-optin1 .et_pb_newsletter_description,
	.dl-slim-optin1 .et_pb_newsletter_form {
		width: 100%;
		padding: 0;
	}
	.et_pb_column_4_4 .dl-slim-optin1 .et_pb_newsletter_description {
		margin-bottom: 10px;
		text-align:center;
	}
	.dl-slim-optin1 .et_pb_newsletter_footer {
		text-align:center;
	}
}
@media (max-width:479px) {
	.dl-slim-optin1 .et_pb_newsletter_field,
	.dl-slim-optin1 .et_pb_newsletter_button_wrap {
		flex-basis:100%;
	}
}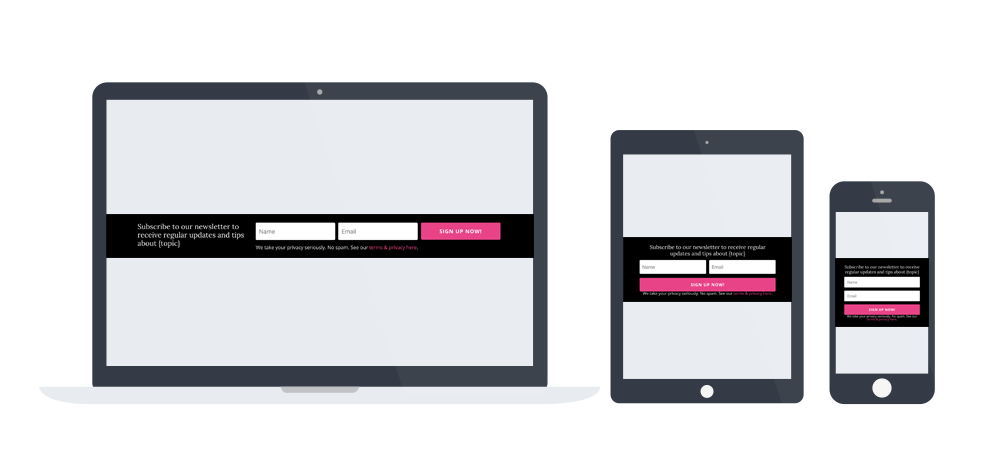 2. Slim signup form with two input fields
If you are going to use both e-mail and name field in your optin form, add a custom CSS class of dl-slim-optin2 and use this CSS code:
@media (min-width:981px) {
	.dl-slim-optin2 .et_pb_newsletter_description {
		width: 30%;
	}
	.dl-slim-optin2 .et_pb_newsletter_form {
		width:70%;
	}
}
.dl-slim-optin2 .et_pb_newsletter_field,
.dl-slim-optin2 .et_pb_newsletter_button_wrap {
	flex-basis:32.5%;
}
.dl-slim-optin2 .et_pb_newsletter_footer {
	margin-top:0;
}
.dl-slim-optin2 .et_pb_module_header {
	padding-bottom:0; 
}
@media (max-width:980px) {
	.et_pb_column_4_4 .dl-slim-optin2 {
		display:block;
	}
	.dl-slim-optin2 .et_pb_newsletter_description,
	.dl-slim-optin2 .et_pb_newsletter_form {
		width: 100%;
		padding: 0;
	}
	.et_pb_column_4_4 .dl-slim-optin2 .et_pb_newsletter_description {
		text-align:center;
		margin-bottom:10px;
	}
	.dl-slim-optin2 .et_pb_newsletter_footer {
		text-align:center;
	}
}
@media (max-width:600px) {
	.dl-slim-optin2 .et_pb_newsletter_field {
		flex-basis:49%;
	}
	.dl-slim-optin2 .et_pb_newsletter_button_wrap {
		flex-basis:100%;
	}
}
@media (max-width:479px) {
	.dl-slim-optin2 .et_pb_newsletter_field{
		flex-basis:100%;
	}
}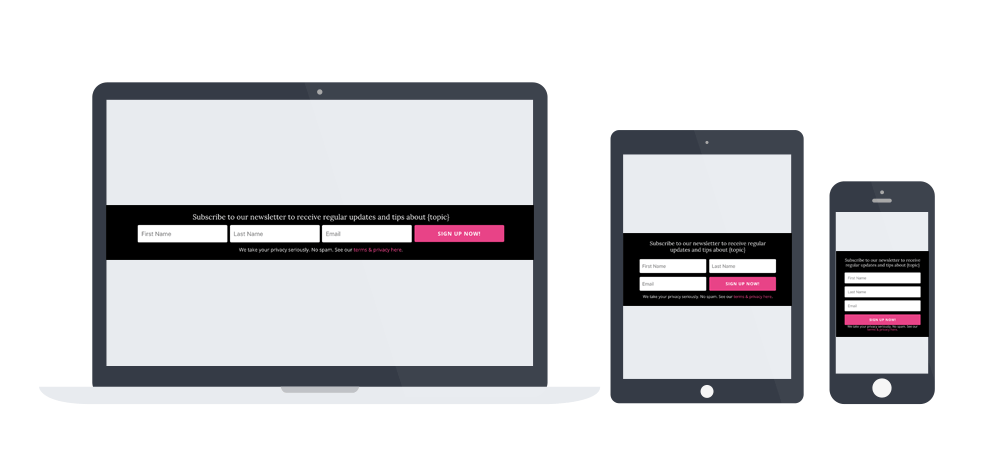 3. Slim signup form with three input fields
If you are going to use all of the default Divi Optin Module fields: first name, last name and e-mail field in your optin form, add a custom CSS class of dl-slim-optin3 and use this CSS code:
.dl-slim-optin3 .et_pb_newsletter_field,
.dl-slim-optin3 .et_pb_newsletter_button_wrap {
  flex-basis:24.5%;
}
.dl-slim-optin3 .et_pb_newsletter_footer {
  margin-top:0;
}
.et_pb_column_4_4 .dl-slim-optin3 {
  display:block;
}
.dl-slim-optin3 .et_pb_newsletter_description,
.dl-slim-optin3 .et_pb_newsletter_form {
  width: 100%;
  padding: 0;
}
@media (max-width:800px) {
  .dl-slim-optin3 .et_pb_newsletter_field,
  .dl-slim-optin3 .et_pb_newsletter_button_wrap {
    flex-basis:49%;
  }
  .et_pb_column_4_4 .dl-slim-optin3 .et_pb_newsletter_description {
    margin-bottom:10px;
  }
}
@media (max-width:479px) {
  .dl-slim-optin3 .et_pb_newsletter_field,
  .dl-slim-optin3 .et_pb_newsletter_button_wrap {
    flex-basis:100%;
  }
}