The Girly child theme is a beautifully crafted theme, designed with meticulous attention to detail. It has been created for female entrepreneurs looking for a ready-made solution for a gorgeous professional website.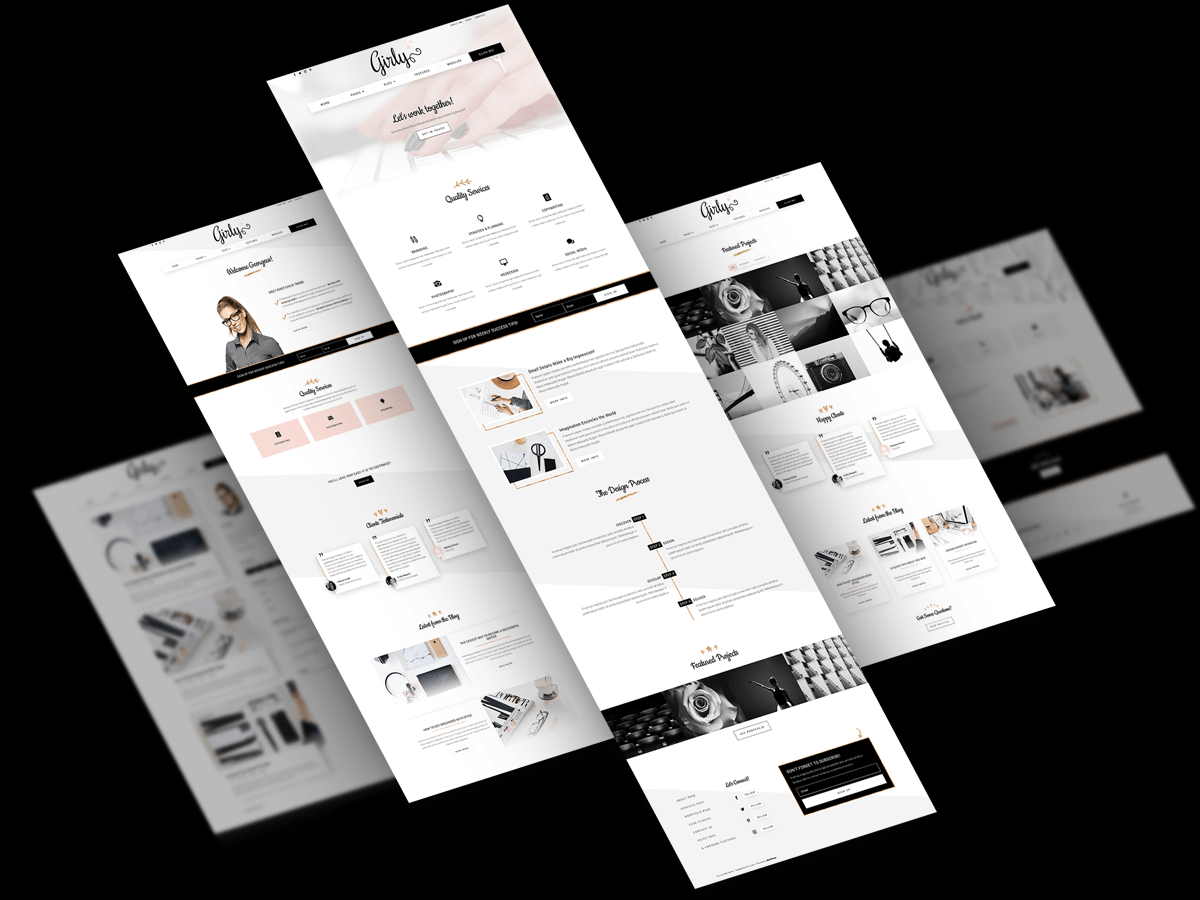 Feel like you are already in love with this theme?
Your new website is just a few clicks away, it's that easy!
Custom Theme Options
Girly features impressive customization possibilities available right in the Divi Theme Options. You can set any layout from the Divi Library and display it as a global footer. You can choose custom 404 error page layout or a pop-up layout. You can freely edit the theme colors, add more links to your social profiles, and customize the preloader settings.
Fancy Preloaders
There are many advantages to adding a preloader to your website. Not only will it improve the user experience, it will, more importantly, allow time for images and other assets to load. Girly comes with Custom Preloader options that will enable you to upload your own or select one from the 12 styles of pre-defined preloaders.
Easy Color Edits with the Theme Customizer
You can set your color scheme in Theme Options and change all the colors globally in a matter of seconds. If you prefer a more detailed hands-on approach, you can use the extensive customization options to edit page elements separately. You will be able to see an instant live preview in the Theme Customizer. You'll love how fun and easy it is to make the Girly theme your own!
Ready-Made Pop-Up Section
You can design your Pop-Up content using the Divi Builder! You don't need any additional plugins. It can be triggered from the menu, by a button – or through any link on the site. All you need to do is to set the link's href attribute to #open-popup to direct your visitors to quickly access your most important message from every page. So easy, yet so effective!
Sparkling Highlights
Give your website some razzle-dazzle with the sparkling highlights! They are cute and glamorous, but classy – like a touch of skillfully applied highlighter. You can choose gold, silver or rose gold pattern, or disable the glam effect and use a solid color instead.
Beautiful & Fun Hover Effects
Fun follow-the-mouse, direction aware overlay effect embellishes the portfolio and gallery modules. The overlay will slide in and slide out, following your mouse movement. Amazing and eye-catching CSS hover effects make the Girly modules more attractive and unique. Wow your visitors and show your content with style!
Better Mobile Optimization
Each Girly element was designed with thorough attention to detail and scales wonderfully on smaller devices. Check out the mobile menu, which has the option of nesting sub-links, so it fits nicely on the screen even if your navigation is complex and has many submenus. You can use custom CSS classes to reverse the column order, center elements on a mobile, and more. There is no need to create and hide separate sections.
Category & Archive Pages Styling
Divi Blog elements are often forgotten and left unstyled. But your Divi blog doesn't have to look boring! Girly has built-in custom styling for all the standard blog pages – archive, category, author and search result pages. There is no need to add additional plugins for your blog pages to look gorgeous and match the rest of your website.
Enhanced Single Post Page
Girly is perfect for bloggers – every single blog post has additional features like automatic Previous/Next post links with titles and the "You may also like" section with random related posts from the same category. It's designed to keep your readers on your site as long as possible as they read through all your content.
Only logged in customers who have purchased this product may leave a review.
Launch your website today!
It takes just a few clicks to install our themes.
Requirements:
This Child Theme requires that you have the Divi parent theme for WordPress installed. It is not included with this product.
Support:
Support is provided for 6 months from the date of purchase. The theme will continue to work without any additional payment but Divi Lover will not be responsible for any conflicts due to updates by Divi, WordPress or any other third party plugins or extensions.
Please Note:
* This theme may not work perfectly with Visual Divi Builder. We recommend using Default Divi Builder for editing sections, rows and modules.
* Floating "Get Girly Theme Now" button visible on demo page is not a part of the theme.
* Girly is fully compatible with Divi versions 3.1+. Some features or elements may not be compatible with previous versions. Please ensure that you use the latest version of Divi.