Power Up Your Divi Website
The Divi Toolbox plugin empowers you to achieve awesome effects which normally can only be done with custom CSS, PHP or Javascript! Learn more
All prices exclude VAT/Tax. Global customers are exempt. For EU customers, VAT will be added at checkout or enter a valid VAT number if you have one.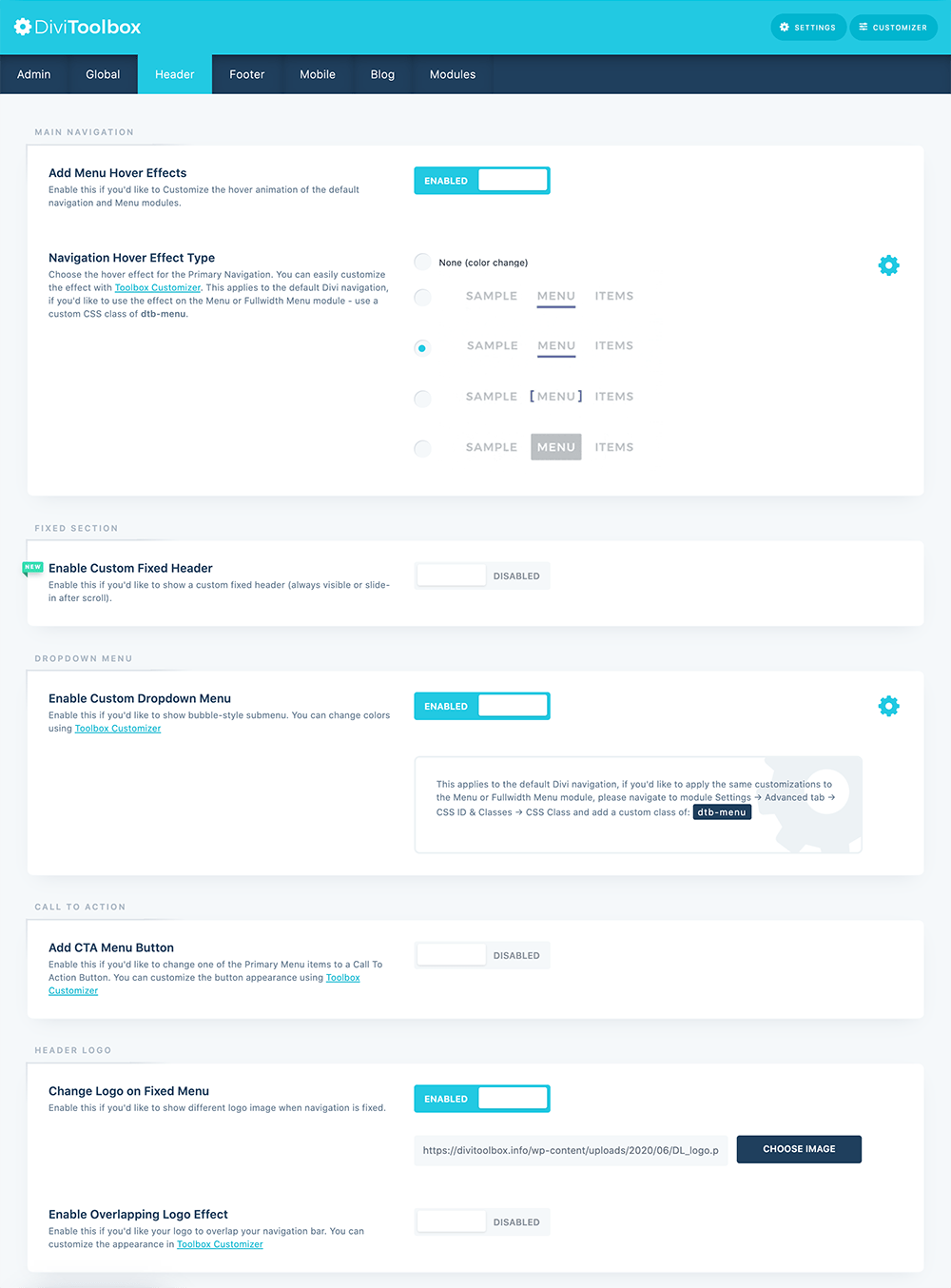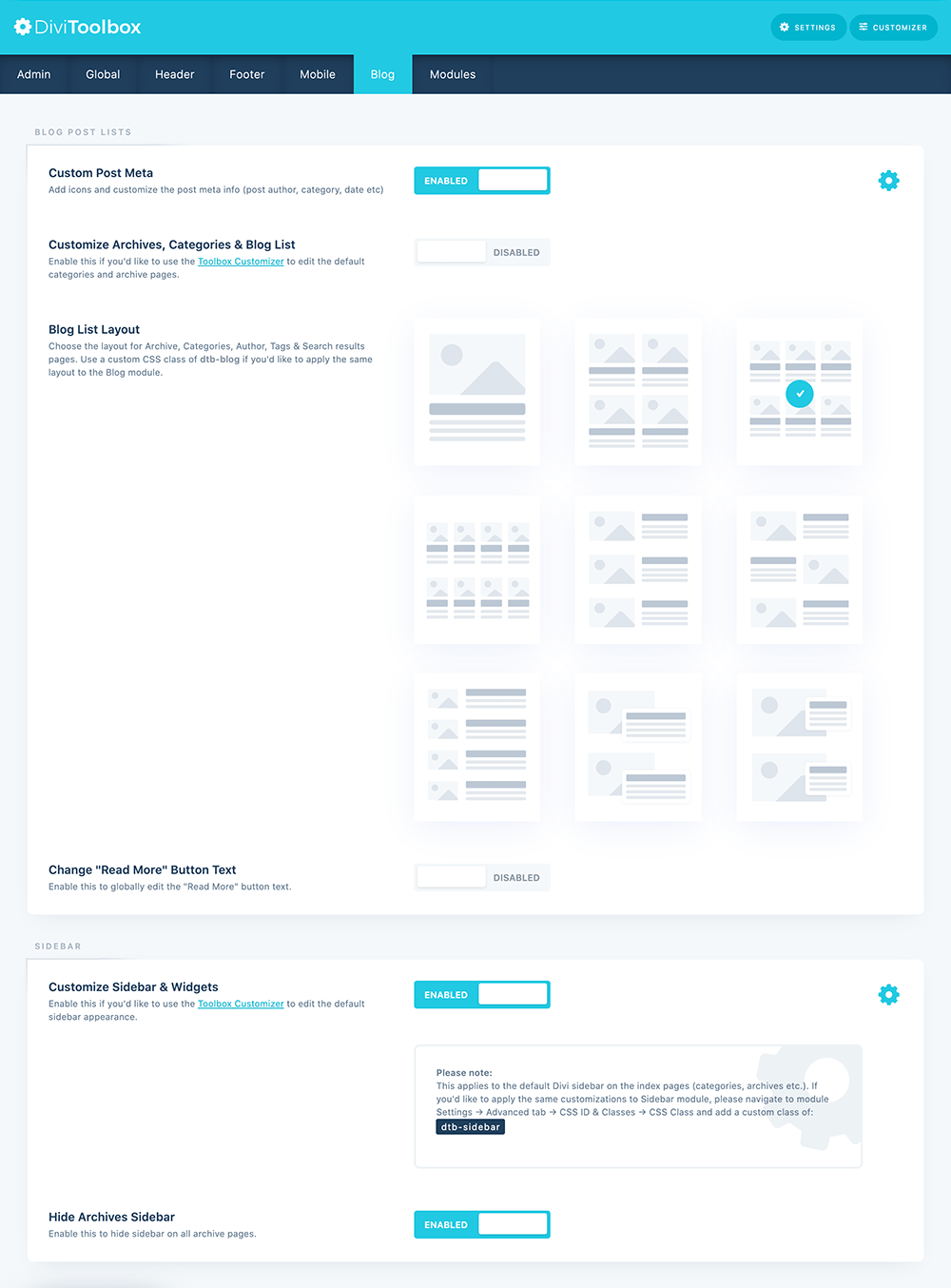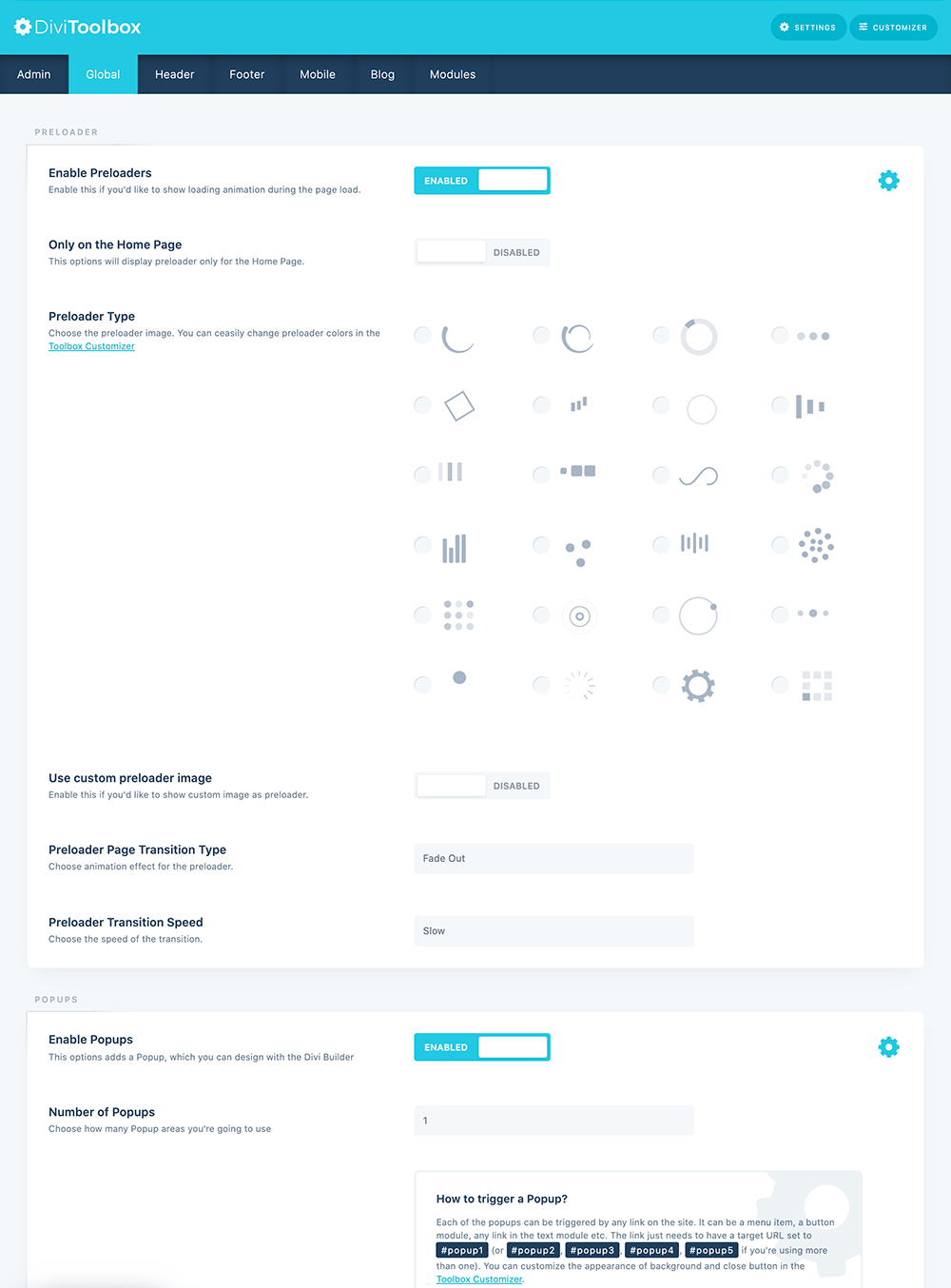 The best way to achieve awesome effects in Divi without writing a single line of code!
The Divi Toolbox empowers you to achieve effects which normally can only be done with custom CSS, PHP or Javascript! Now, you'll be able to easily make these changes in the Divi Theme Customizer. Make your website awesome without any coding skills!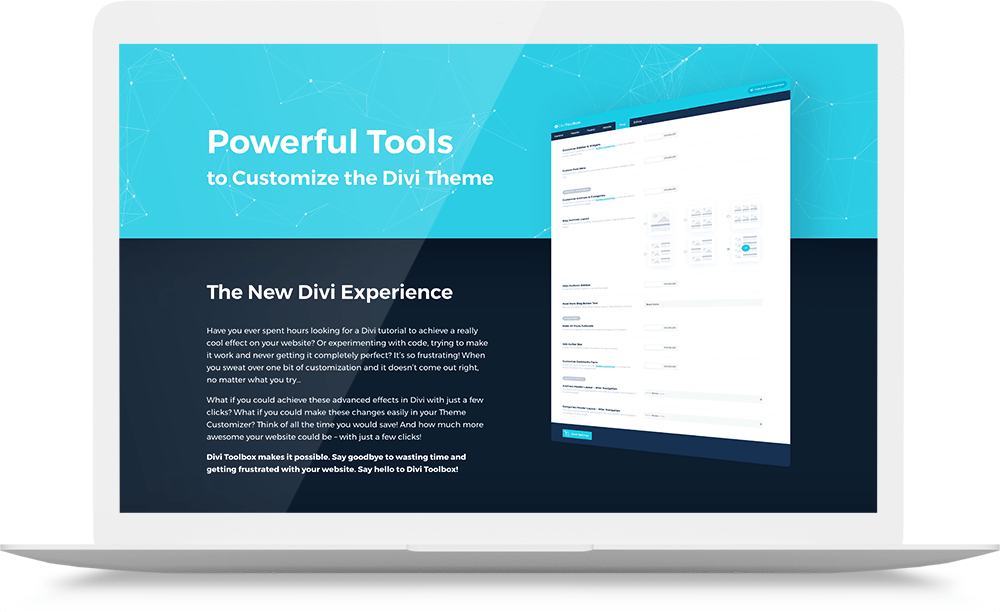 See it in action!
Make sure you check out our
Toolbox Demo Page
. Does it look pretty advanced? Well, guess what! We didn't use even a tiny bit of custom CSS or JavaScript to build it. All the awesome effects have been created using the Divi Toolbox! You'll find the full feature list there too!
Make Site-wide Changes Fast
The Divi Toolbox lets you pick the elements you wish to change. When you enable a feature, it appears in your Theme Customizer, where you can make adjustments and site-wide enhancements with just a few clicks.
Logo and Header Custom Look
You can modify your logo and header with ease. Create a custom dropdown menu, add a CTA menu item, or edit hover effects. You can also change your logo on a fixed header, create an overlapping logo effect, and display any layout from your Divi library before and after header.
Fine-tune the Mobile Menu
Create the best mobile experience by adjusting your mobile menu! With Toolbox, you can make the mobile menu bar fixed, enable slide-in mobile menu, add hamburger icon animations, collapse nested submenus, and change your logo for mobile menu!
Make Divi Blog Awesome!
The Divi Toolbox has nine custom layouts for your blog categories and archive pages. You can further customize each element in your chosen layout. You can also customize your single post page by adding an author box, related posts, and the previous/next post navigation. Even more: you can add custom header layouts on archives, and globally customize or hide the sidebar. Create the best blogging experience on your website!
Typing Effect
Particles Background
3D Tilt 
Parallax Scrolling
Divi Toolbox has all these awesome effects and more!
Maybe you've always wanted to have a fancy preloader but it seemed like too much hassle? Now you can have it! The Divi Toolbox can also enable custom popups, which display any layout from the Divi Library. You can easily add moving particles background, or 3d tilt effect! Get the awesome effects you have always wanted!
The Divi community has fallen in love with the Divi Toolbox!
Read our customers' testimonials to find out what they think.
The first time I used Ania's plugin "Divi Toolbox" I knew I would be adding it to every site I built as it made my workflow so much faster. The plugin itself is simple and intuitive to use, and it has loads of useful features that make each site unique in no time at all. Thanks, Ania for taking some of the work out web development.
With Divi Toolbox, you have the ability to customize the most important features in Divi without the headache of trying to custom code everything with CSS and PHP. If you don't want to have to custom code, this plugin is a must! And even for advanced coders, this plugin will save you hours when designing custom websites in Divi.
Streamlined, intuitive, powerful… Beautiful UI, awesome experience! I really have to mention that I could save several plugins by using Divi Toolbox alone.  It is impossible to put all the features together in a few lines. I'm in love with this plugin. I mean it! One of the most useful tools for Divi! Thanks, Ania! Outstanding Job!
Only logged in customers who have purchased this product may leave a review.
The New Divi Experience
Powerful Tools to Customize the Divi Theme
Have you ever spent hours looking for a Divi tutorial to achieve a really cool effect on your website? Or experimenting with code, trying to make it work and never getting it completely perfect? It's so frustrating! When you sweat over one bit of customization and it doesn't come out right, no matter what you try…
What if you could achieve these advanced effects in Divi with just a few clicks? Think of all the time you would save! And how much more awesome your website could be – with just a few clicks!
Divi Toolbox makes it possible. Say goodbye to wasting time and getting frustrated with your website. Say hello to Divi Toolbox!
Ready to get started?
Up your Divi game now!
Requirements
Before you purchase
This plugin requires that you have the Divi theme for WordPress installed. It is not included with this product. Make sure your hosting configuration is compatible.
First Steps
Questions about the product
For instructions on how to install and use the plugin please visit the documentation page. For information about our shop, please read the FAQ page.
Support & Updates
Customer satisfaction
With a one-time payment you get lifetime access to product updates. Support is provided for 6 months from the date of purchase.